Villhard Innovation Lab – Events

TRU-Entrepreneur Speaker Series
Upcoming: Thursday, October 26 – 1:30-2:30 pm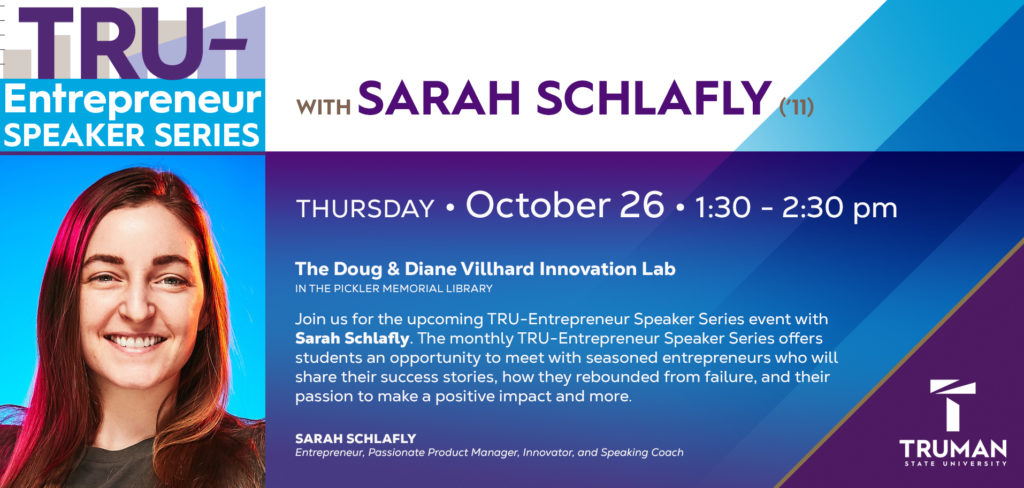 Sarah Schlafly ('11) is a "cereal" entrepreneur—cricket cereal, that is. Her inspiration for Mighty Cricket was born out of a problem that bugged her: the harmful effects of industrialized meat. Before founding Mighty Cricket, Sarah spent 12 years in the food industry as a chef, culinary instructor, and marketer. Featured in Forbes and Inc Magazine, Sarah gets Americans over the mental barriers of eating bugs by blending cricket protein powder into delicious products.
Thursday, September 21 – 1:30-2:30 pm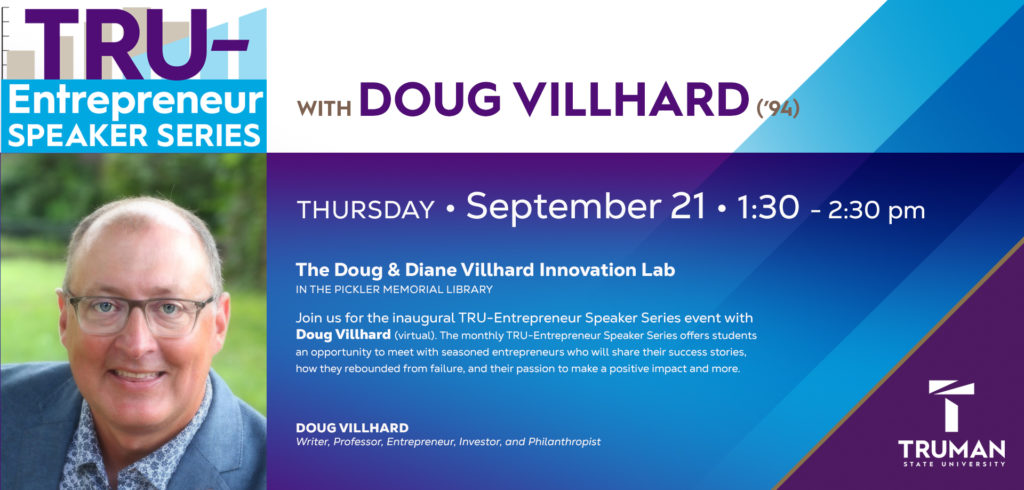 Doug Villhard ('94) started out his early career at Disney before becoming a serial entrepreneur starting, selling, buying, advising, and investing in companies. One of Doug's most successful ventures is Second Street, a technology company he co-founded in 2007. Based in St. Louis, Second Street is an audience engagement software platform used by media companies to run contests and interactive content on their websites. Doug is also the managing director and co-founder of Villhard Growth Partners.
After decades of starting and selling companies, Doug is supposed to be retired, but instead is having too much fun heading the #1 ranked entrepreneurship department at the Olin Business School at Washington University in St. Louis. Doug is also author of a book titled Company of Women.
When it comes to business knowledge, Doug is interested in disseminating as much as he is acquiring. He was the driving force behind Truman's Bulldog B.I.T.E. pitch competition, and Villhard Growth Partners has been a sponsor. He chose to give back to Truman through a pitch competition primarily because he wants students to know creating a business is as viable of an option as going to work for someone else, and a young person's lack of finances is actually liberating.
Doug and his wife, Diane ('95), established the Villhard Innovation Fund at Truman in 2016 to assist Truman in expanding entrepreneurial and innovative opportunities for students. The Doug and Villhard Innovation Lab in the Pickler Memorial Library made its debut in August 2023 through a generous gift from Doug and Diane.
In addition to their support for Truman, Doug and Diane enjoy contributing to charitable endeavors in his hometown of Glen Carbon, Ill., and even founded a Catholic high school that in just its sixth year already enrolls hundreds of students or, as Doug calls them, "future entrepreneurs."